I'll admit it, when Sony last year announced plans to release their own virtual reality headset for the PlayStation 4 — a five-year-old console — I was skeptical. 
The announcement left me with several burning questions: first, how would an aging console support such demanding technology? After all, the other two virtual reality offerings, the Oculus Rift and HTC Vive, required fairly muscular PC systems to run games. Second, would gamers be willing to pay hundreds of dollars — in fact, roughly the same price as the console itself — to acquire a virtual reality device from a company, Sony, that's never made any substantial waves in building VR technology? Third, would game developers make titles for a device likely to be marginalized by such a steep price tag or the processing power of an aging console?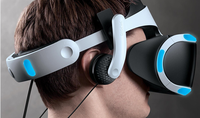 When Sony's PSVR hardware finally went on sale last fall, these questions left me uneasy about the product and I held off making a purchase. But slowly it became clear that this wasn't just a stunt; in fact, early reviews were surprisingly positive. While many early adopters acknowledged that PSVR games' graphics were demonstrably less impressive than a those on a 4K television, fans insisted that the VR gameplay more than accommodated for this problem. In fact, the overwhelming reaction of PSVR users seemed to be that Sony had just introduced some truly "next level." 
As the positive press regarding PSVR continued to roll in, I finally decided to purchase a unit in early 2017. It took some time, as many stores in my native Southwestern Ontario, Canada, had already sold out. Eventually, thanks to Amazon, I was able to secure one of Sony's PSVR launch packages, which includes the headset, earbuds, move controllers, demo disc, VR World (a game bundle featuring a handful of short VR "experiences" and all the necessary hookups. Total cost, minus taxes: $699 (a whopping $200 more than the price available to Americans).
First Impressions
Out of the package, the PSVR headset is an impressive looking device. Visually, with its white, blue, and black colors, lights that flash on when the device is powered, and outer space aesthetic, it screams Sony — no gamer would ever confuse this for a Nintendo or Microsoft product. 
Slip the headset on and you'll be surprised by just how comfortable it is to wear. Although it's recommended users take breaks every hour or so, the PSVR headset is comfortable enough to wear for several hours at a time. Of course, this depends on how much you move while wearing it — keep still and everything should be fine, but the more you move your head, the more likely you'll be to bump up against the lenses, leaving marks that can only be wiped away after removing the headset entirely. 
If there's one major complaint about the PSVR headset's design, it's definitely the fact that this thing isn't wireless. In fact, it packs quite a few wires, with the longest and thickest one reaching from the console to the headset. Generally, this isn't a huge problem — after all, most of Sony's VR offerings require the player remain seated. However, if you find yourself playing standing or more movement-oriented games, such as Superhot, Holoball, or Arizona Sunshine (all of which I recommended), that wire is going to drive you bonkers at times. Will it cause you to stop playing altogether? Absolutely not. But there's no doubt that the first VR device that effectively does away with the headset wiring will have a huge leg up on its competition, including this version of Sony's PSVR.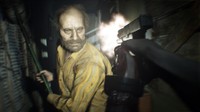 So, how do the games look and play? Obviously, the answer depends on the game in question, but we can make a few conclusions nearly a year into the PSVR's lifetime. For one, you will notice a significant downgrade in the graphics department, particularly if you've gotten used to playing 4K titles on your PS4 Pro, Xbox One S, or PC. And some games look better than others: several of the titles found on the VR Worlds disc packaged with the launch bundle suffer from bland colors, crude textures, and 90s-ish pop-in. But for every title that looks like garbage, there are at least a few that downright impress, from the masterful Resident Evil 7 (easily the best game available for PSVR right now), to first-person shooter Farpoint (which uses the extremely handy Aim controller), to Dirt Rally.
PS4 Pro or PS4?
When Sony launched the half-step upgrade for PS4, dubbed PS4 Pro there was much speculation that it wasn't just an Ultra HD upgrade as promised. With at around double the GPU power, how could Pro not offer enhancements to PSVR. Will I get a significant bump in quality if I upgrade my PS4 to the new Pro model before buying a PSVR?
The answer is a resounding no… but maybe in the future? You see, you the added specs Pro provides PS4 really doesn't add up if the software (game) isn't designed to take advantage of the extra GPU horsepower Pro offers. So, really just let the game decide. So far, it's a challenge to see any difference in existing games between how they play on Pro vs a standard PS4. But that's not to say there aren't games coming up just around the corner that won't offer a significant boost to PS4 Pro users.
Setup & Audio/Video
Audio options for the PSVR are pretty straightforward: the device comes with some fairly run-of-the-mill earbuds, which are more than serviceable. Most of the time I use my Yamaha surround sound system, though if quiet is a must I'll put on my SteelSeries Arctis 7 Wireless headset. As you can tell, none of these options are really unique to the PSVR experience.
Setting up the PSVR is really quite simple, too. Inside the package you'll find a box that attaches to the PS4 and acts like a hardware add-on — think of how this worked in the 1990s when Sega released its Sega CD and Sega 32X devices. The box itself looks a bit like a mini PS4 and will take up some space in your home theater cabinet. 
The one major drawback of Sony's approach to the PSVR is the absence of proper HDR passthrough. In essence, if your PSVR system is hooked up, you won't be able to view HDR-quality video on your PlayStation 4, even if it's the newer PS4 Pro. That means you literally have to unplug all of the PSVR components and return to your vanilla setup if you want to watch a movie or show or play a game with HDR support. If you're a stickler for video quality, or you just want to get the most out of that new 4K HDR television, this will be a pain in the butt and may even discourage you from using the PSVR.
Of course, that depends on your personal preferences — if you're like me, and treat your home entertainment area as a video game room first, TV and movie theater second, then you may just leave the PSVR plugged in at all times, HDR be damned. After all, it isn't as though movies and television look terrible without HDR on a newer TV. Nevertheless, this entire HDR passthrough issue is a headache for the growing PSVR community, with everyone hoping Sony releases some kind of upgrade that eliminates the problem.
Gameplay
That brings us to the actual gameplay. Admittedly, your experience here is going to depend on the games available to you. The good news is that the PSN Store is a veritable treasure trove, with dozens of excellent VR titles to choose from. There's something for virtually any type of gamer: like shooters? Try Farpoint and Arizona Sunshine. Like horror? Try Resident Evil 7 or Rush of Blood. Like sports games? Try Headmaster or Holoball. Like racing titles? Try Dirt Rally and Driveclub VR. Like puzzle games? Try Gnog or Statik. Like nutty, trippy, weirdo games? Give Thumper, Rez Infinite, or Polybius a go. That list of titles alone will keep you going for weeks and it doesn't even include excellent titles like Arizona Sunshine, Archangel, or Infinite Minigolf.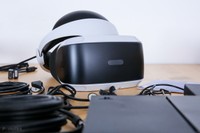 So, if the good news is that there are many games available right now, the even better news is that the PSVR offers what I like to call "next-level gameplay". For someone who's played video games his entire life, I can't remember having this many mind-blowing moments in such a short period of time. If there's one word for virtual reality gameplay, it has to be "immersion". 
Imagine having a reanimated corpse reach for your face in Resident Evil 7; imagine the feeling of popping off shotgun blasts using the excellent Aim controller in sci-fi shooter Farpoint; imagine looking through your car's side window to see if your rival is about to pass you in Driveclub VR; imagine the feeling of power felt after getting into the pilot seat of a giant, hulking mech in Archangel. For some players, myself included, it can be really tough to go back to non-VR games — even excellent ones like Horizon: Zero Dawn or Shadow Warrior 2 — after purchasing the PSVR.
VR gaming also has the potential to change how we feel about exercise. For most of us, it's a complete chore — I know few people who actually enjoy going to the gym three or four times each week. Granted, there's nothing on PSVR that can replace a spirited jog just yet, but titles like Superhot and especially Holoball do get you moving and burning calories. Honestly, if you followed a healthy diet and played Holoball every day for an hour — and did very little physical activity otherwise — I'm convinced you'd see results. But I digress.
Conclusion
It's not my goal to leave any reader with the impression that Sony's PSVR system is without its share of problems. Considering the wires that frequently get in the way, the lackluster graphics in many games, and the HDR passthrough issue, it's clear this is just the first of many steps in the right direction for virtual reality. As much as I'm a fan of PSVR, it's abundantly clear to me that it's only the beginning for this technology and that in a few years we'll have a good chuckle about just how many people, myself included, raved about this product. Right now I can only imagine how much better the experience will be with a wireless headset, truly sharp graphics, and expanded support from major game companies like Rockstar, Bioware, id, and Bethesda. 
Nevertheless, the PSVR is, as I put it before, next-level stuff. If you're a gamer, even a fairly casual one, and you can afford the hefty cost of this device, then I'd consider this a must-own product.
gene posts on October 09, 2017 00:51
I'll admit it, when Sony last year announced plans to release their own virtual reality headset for the PlayStation 4 – a five-year-old console – I was skeptical. As positive press about the product started rolling in, I finally decided to purchase a unit earlier this year. But, despite all the great reports let's take a closer look and see if it's worth the significant investment.
Read: Sony PlayStation VR & PS4 Review – Should You Go PS4 Pro or No?